What it means to be camp-minded.
Campminder was founded on core memories of attending and working at summer camps, and the belief that these life-changing camps deserve the same software tools that other industries
have access to.
We make Campminder.
Our values make us.
The team is us, our camps, and their camp families. With empathy and humility, we seek win-for-all solutions.
Leave no challenge unfaced. We drive for results with passion, grit, and determination.
We follow through on our word. And always choose candor, respect, and kindness.
There's always more to learn. So we seek to understand with curiosity and vulnerability.
Innovation and improvement are always on in a culture of constant personal and professional growth.
We laugh often. We channel gratitude, positivity and hospitality in our work, always striving to make people feel good.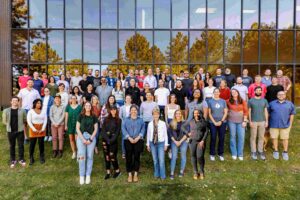 Engineered with diligence.
Founded with heart.
We're passionate about summer camp, technology, and how the two come together to change the world. A customer-centric business 22 years strong, this passion shows up in our culture and in our work.
Making a name for ourselves
We're proud of the recognition we've earned in Colorado and beyond, like being named one of Outside Magazine's Best Place to Work for six years in a row.
We invest in employee joy.


And it's always worth it.
Medical, Dental, & Vision
Choose from an array of plans for you and yours. Costs are offset by Campminder contributions.
Disability and Life Insurance
Provided at no cost to employees. Additional insurance can be purchased, too.
Wellness Stipend
$300/year towards wellness purchases or reimbursements.
Mental Health Resources

Mental health is a priority from the top-down. Leaders make it a mission to share resources available for self-care.
Trust Based PTO
Paid time off, no cap. We trust you'll take the time you need. On average, the 'Minders take between 3-6 weeks vacation per year.
Parental Leave
Full-time eligible employees get up to 12 week paid Parental Leave for a birth (including via surrogacy), adoption, or foster care placement.
Holidays
We're closed for nine holidays, and employees are encouraged the take other days off in honor of their heritage, religion, birthdays—or anything worth honoring.
Competitive Salaries 
We conduct market research every year to make sure our salaries are competitive with other local, similar businesses.
Bonuses
Achieving both personal and company goals drives bonus earning potential.
401k with 4% Match
Contributions can begin after the first pay period, and contribution with match is vested immediately.
Pay Band Visibility
We share how our pay bands are developed, when and why somebody can be promoted, and what the min, mid, max pay somebody in that pay band receives.
Prioritizing Engagement 
#1, always. We believe engaged employees are the foundation of a thriving culture and company. Our mission is to create a world where work is fulfilling and life is fun for all.
Open Communication
Our communication styles and meeting rhythms are structured with intention, to ensure clear and consistent communication throughout all levels and departments.
Calendar of Gatherings
We love an opportunity to get together! We host a range of all-company gatherings, like 10-minute weekly updates, monthly Campfires, quarterly meetings, and major meaningful celebrations.
Career Path Frameworks
We provide clear roadmaps for every employee's career advancement.
Hiring From Within
Whenever possible, we hire up the people we have.
Time Alotted for Learning
We allot time during the week for personal development and engaging with DEI resources.
Company Outings
We provide clear roadmaps for every employee's career advancement.
Office Perks
Pet-friendly, catered meals for meetings, happy hours, casual dress, snacks, beverages, and communal lunches.
Industry Discount
We allot time during the week for personal development and engaging with DEI resources.
Location Flexibility
We offer our employees flexibility and support in a hybrid work environment. Options include 3+ days in the office, 1-2 days in the office, completely remote, or out-of-state.
DEI words into DEI actions
Track and measure our progress
We actively identify the metrics we will use to measure the success of our DEI efforts (including targets for each), and track our progress on an ongoing basis.
Follow DEI best practices from recruiting to onboarding
Continuously evaluate and improve our recruiting, hiring, and onboarding processes. This includes steps such as posting jobs on sites more likely to attract a diverse applicant pool, and using inclusive hiring language and practices.
Develop a system for staff feedback
Survey existing employees about how well the company is supporting its DEI Mission. Track and report on this metric alongside other employee engagement metrics.
Cultivate a culture of participation
Implement strategies to promote broad conversation and engagement with DEI topics. Develop official pronoun and inclusive language policies.
Create a variety of quality and inclusive events and meetings
Conduct an evaluation of our team members' desired frequency and variety for social engagements. Organize a social committee representing a cross-section of roles and functions. Draft a company social calendar of events that accounts for various needs and preferences.
Implement a vendor and contractor review process and policy
Create a process and policy to evaluate vendors and contractors for DEI alignment, prioritizing those who meet these criteria.
Provide resources and learning opportunities
Curate and share books, podcasts, audio books, webinars, and more for staff to explore. Provide a variety of resources to acknowledge that we are all at different stages in this learning and process.
Review our mission, pillars, and initiatives with an expert
Work with a consultant to ensure we are on the right track with our process for creating our mission, pillars, goals, and metrics.
Continuously learning. To improve our platform, and our workplace.
We know that diverse perspectives are not only necessary, but powerful. As a company we created an ever-evolving road map to set and meet our Diversity, Equity, and Inclusion goals, because we know that's the only way to reach our ultimate goal of being the best software company we can be.
Call Campminder home
Browse our open positions and see what sticks.
We're looking for an operational manager with strong people management skills and the ability to effectively implement and roll out new processes, policies, and departmental initiatives.
As a Senior Accountant at Campminder, you will play a key role within our finance team, while reporting to the Controller.
Link Up on LinkedIn