OWNER & DIRECTOR
Lead like never before.
Camp Owners and Directors are heroes. They are also humans. Campminder takes some of the pressure off a high-pressure gig by limiting liability, enabling productive teamwork, and simplifying every aspect of operations (all for less than the cost of one full-time employee). We help streamline the everyday details, so you can focus on ROI, sustainable growth, and long-term success for your camp. And on the families who count on you. And even in the off-season. You know, hero stuff.
---
Simple Self-Serve Reporting
You'll already have all your camp data interconnected and auto-distributed throughout the Campminder system. Presenting the pieces in pre-made or custom-build reports is a synch.
Do them or delegate them, reports are user-friendly for all
Illustrate your opportunities to improve and evolve year over year
Optimize your templates over time to work with your camp
API distributes report data instantly to other departments
Complete Staffing and HR System
Campminder helps you hire the right people for the job. It helps them be their best at it. And then it helps manage their hours, assignments, benefits, payroll… we'd keep going but we know you're busy.
Receive online applications that trigger automatic reference checks
Filter details to find your most qualified applicants
Track your payroll, bonuses, and other personnel expenses
Onboard every person to their specific role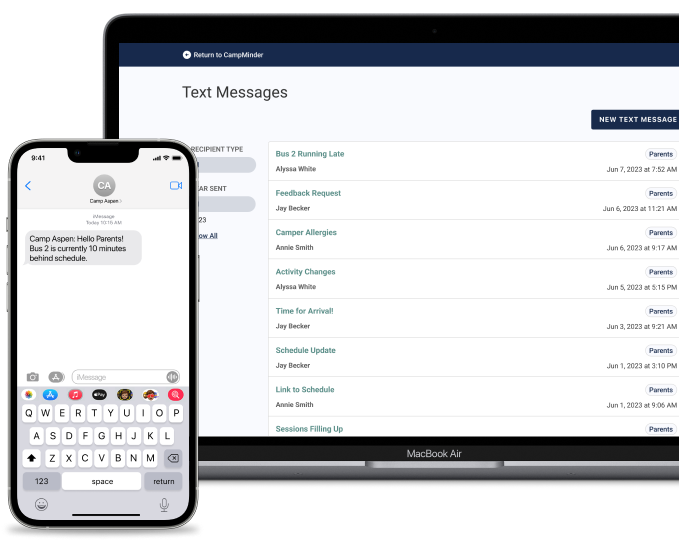 API & Integrations
Set up the API to integrate other tools you rely on. And set yourself up for automated, time-saving, long-lasting success in your marketing campaigns.
Active contact lists that update in real-time
Stay in touch from lead to converted camper
Narrow your message to the right audience
*COMING SOON* Integrate your marketing data with your financial reporting and accounting
Campanion Mobile App
We call this one the "Bring Camp Families Closer" tool. We don't, really, but we should. Because this app brings your camp above the rest.
Mobile operations that bring efficiencies across your business
Social-style photo feed with facial recognition
Consistent bank of photos to use in marketing materials
Easy access to mobile form fills and document uploads
Always-on engagement that encourages re-enrollment
Works for your staff, your campers, and your bottom line.