Who doesn't love a campfire? When you're in charge of the summer camp menu, you just have to throw some of those campfire meals into the recipe mix. We chose recipes that are easy enough that you can involve your campers in the cooking process. Check out our no-fail campfire meals below, and give them a try at camp this summer.
Good Morning, It's Time to Get Your Campers Going!
Breakfast is the most important meal of the day. So, take a break from cereal and granola bars and include one of these easy-to-make breakfast meals. They'll fill up the kids and give them the energy they need for a long day of play.

#1 Western Skillet Campfire Scramble
This casserole option is a great and easy way to get kids involved in campfire cooking. Who wouldn't love a mixture of hash browns, cheese, eggs, ham, and bell peppers? Grab a few 9X13 foil cake pans (this makes cleanup a breeze). Then, mix together all the yummy ingredients, spray the pan with non-stick spray, and pour them into the pan. Cover with foil and cook over hot coals for approximately 40 minutes. Then, all that's left to do is dig in!
You can use the same approach, substituting other veggie ingredients for the ham for vegetarian eaters.

#2 Breakfast Burritos
Here's another mixture that the campers won't be able to resist. Campfire breakfast burritos contain all the yummy breakfast ingredients, including sausage, bell peppers, potatoes, cheese, and eggs. Plus, they're wrapped in a soft flour tortilla. Your summer camp kitchen crew can prep these burritos beforehand so that breakfast can run smoothly. Simply follow the recipe below, wrap the burritos in heavy-duty foil, and refrigerate until ready to cook! Place them in some campfire coals and check on them every 4 or 5 minutes, rotating them frequently so that they don't burn.

#3 Cinnamon Roll on a Stick
Looking for a sweet breakfast treat? Try this recipe for campfire cinnamon rolls. Send the kids on a mission to grab the perfect skewer stick. Then, using canned cinnamon rolls, wrap a cinnamon roll around the stick and spin it over hot coals. Cook until it's golden brown and then dip in cinnamon roll frosting. Be prepared- the kids will definitely ask for seconds.

#4 Campfire Donuts
Okay. Maybe these should have been placed in the dessert category, but donuts are a breakfast food, right? This recipe only contains three ingredients and it's easy for the kids to take part is making them. First, grab a cast iron skillet. Next, form some pre-made biscuit dough into rounds. Throw some oil into the skillet and let it heat up, and then place the dough into the oil. Flip them once the first side is browned, brown the other side, and then carefully take them out and lay them on a paper towel to soak up the grease. Last, let the kids shake those babies in a paper bag filled with cinnamon and sugar. Voila! It's donut time!
It's Lunchtime! Fun Campfire Lunch Options for Your Campers
They've been out swimming or running all morning, and you want to give them something quick and easy to fill them up for the rest of the day. Look no further. Get the kids involved with the following lunch recipes that they'll all love!
#5 Camping Quesadillas
Quesadillas are a simple campfire meal to get kids fed quickly, so they can get back to camp fun. Let the kids choose from an assortment of ingredients, like cheese for the picky eater, or chicken, black beans, and salsa for the more adventurous camper. Place the ingredients on one side of the tortilla and fold it over to cover. Then, put the quesadilla on some foil and place it on a campfire grate. Cook until the tortilla is crispy and the insides are gooey. Cut it up and serve!

#6 Foil Pack French Dip Sandwiches
Bread is good. So is cheese. Anything else is just an added bonus. These sandwiches require little work, but the payoff is huge: full bellies and smiling faces. Grab a huge loaf of French bread (or several) and cut it into slices, making sure not to cut all the way through so that the loaf stays together. Wedge some butter mixture and cheese and whatever else you'd like to add between each slice. Brush the top with the remaining butter mixture, wrap in foil, and place over coals. Be sure to check it every couple of minutes to make sure it's melted but not burnt. If you're feeling saucy, make the au jus in a campfire pot. Find out more in the recipe below.

#7 Hot Dog on a Stick
Hot dogs are tastier than ever when they're cooked over a campfire. And, instead of the traditional bun, you can have a little fun by using pre-made crescent roll dough instead. Grab some skewers, slide the hot dogs on, and have the kids wrap their hot dogs in the dough. Then, let the kids cook them over an open fire, twisting them as they cook.

#8 Campfire Taco in a Bag
Tacos are not only the perfect way to keep kids involved, but they're also a great way to sneak in some veggies under the guise of creativity. First, get some individual chip corn chip bags–one for each camper. Then grab an aluminum foil pan and use it to brown the ground beef. You might have to drain some of the oil out once it's cooked, then sprinkle on some taco seasoning. Meanwhile, crush the chips and cut off the top of each chip bag. Scoop some of your grown taco meat into each bag and top with any fixings you want. Every kid gets his or her own taco bag, and good times are had by all!
Ring the Dinner Bell: Soul-Warming Campfire Meals For the Tired Camper
A campfire dinner can be a time where tired campers kick back and enjoy quality time with one another, all while cooking up something tasty. Below we've got some dinner and side-dish ideas that won't have you stressing. Simply lay out the ingredients and let the kids get to work making their main courses.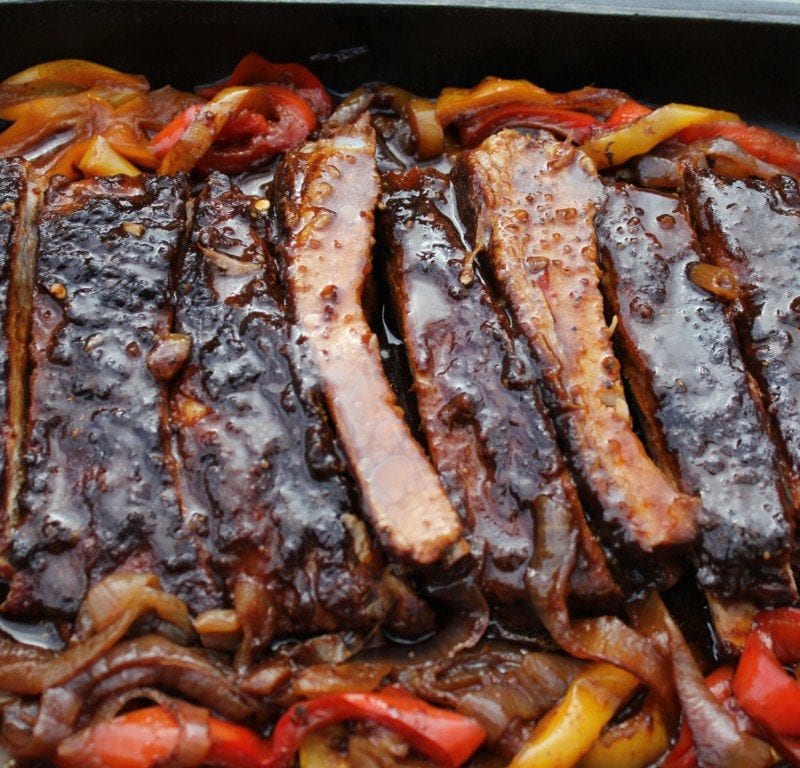 #9 Campfire Ribs and Potato Foil Packs
How about some fall off the bone ribs? Okay, yes, this one does require a bit more equipment than just aluminum foil, but it's worth every mouth-watering bite. All you'll need is the ingredients found in the recipe below and a dutch oven (or two or three, depending on how many campers you've got). Then, go easy with cheesy potatoes wrapped in foil. Meat and potatoes… what could be better for those hungry bellies?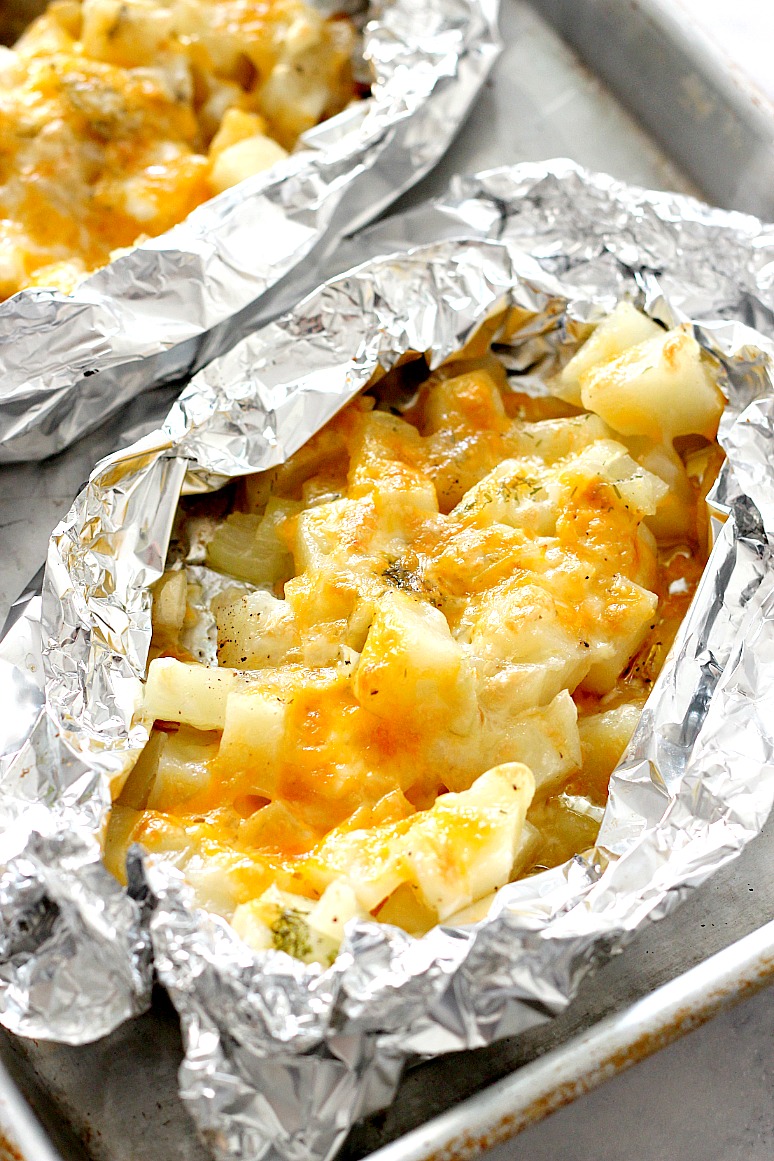 #10 Summer Camp Lover's Pizza
There's no doubt that pizza is always a hit. And an assortment of toppings can make this dinner option enjoyable for kids with varied tastes. The recipe we've included below uses pie irons, but if you don't have them, you can make the same thing in a foil pack! Refrigerated pizza crust, spaghetti sauce, cheese, and a buttered-up pie iron makes for a delicious (and quick and easy) dinner. Oh, and don't forget the pot holders!

#11 Roasted Chicken, Campfire Corn, and Beans
Check out the three recipes below for a filling, healthy meal made completely by campfire. For the roasted chicken, you won't need much. A whole chicken, spices, oil, and heavy-duty foil or string (if you want to roast it over the fire…I'm drooling) will do the trick. Then, pull out a few more sheets of foil and some butter for your campfire corn on the cob. Top it off with some baked beans made in your campfire skillet (Or you can cook em right in the can! – Just be carefully handling it) . Don't worry- if the beans seem too complicated for a campfire meal, simplify by only including what you and kids like and skipping the rest.
View Roasted Chicken Recipe, Corn on the Cob Recipe, and the Baked Beans Recipe

#12 Jambalaya Foil Packet
Why not have some Cajun influence on your summer camp menu? Include this jambalaya foil packet campfire meal to give the kids some spicy deliciousness this summer. Prepare these foil packs ahead of time, complete with sausage, instant rice, veggies, and some chicken broth to steam it all up. Set the packs in the hot coals and check one or two for doneness after 15-20 minutes. If you've got picky eaters, consider making a few packs without veggies or with sausage to make sure all the kids get full.

#13 Tater Tot Meatball Meal
Meatballs? Yes. Tater Tots? Yes. Vegetables? Yes. Cheese? Definitely. These foil packs combine the best of all worlds. They're a win for a hungry camper and a win for a camp cook trying to get kids to eat their veggies. Plus, they're easy. Get the kids involved in this one by giving them their ingredients and letting them assemble their own packs. Hopefully, you'll be able to convince them to get those veggies in there.
Sweet Campfire Treats for the Camper Sweet Tooth
You can't forget about sweet campfire treats. Below, we've provided some creative ideas for you to try out with your campers. We know s'mores are awesome, but these might just become your new favorite. Whoever said that sugar doesn't cause kids to go bouncing off the walls must never have been to summer camp. So, why do we continue to torture ourselves by serving sugary treats? Because they're good, and because we want some too. It's worth it!
#14 Candy Loaded Campfire Brownies
These candy loaded campfire brownies will please campers and counselors alike. Plus, they include simple ingredients like brownie mix, candy, foil, and non-stick cooking spray. You'll need a dutch oven to pull these off, but they'll be talking about them for weeks, so it's worth it. Let them cook for 20 minutes in the campfire coals, and get ready to feast. (If the candy seems a little excessive, my dad uses pie filling and drizzles it on top of the batter before cooking!)

#15 Brown Bears
If you're tired of chocolate sweets, Brown Bears are another sweet treat that you can serve at camp. Take some biscuit dough, wrap it around a roasting stick, and then cook it over the campfire. After that, brush it with butter and roll it in some cinnamon and sugar. It's easy for the kids to pull off and it's a budget-friendly treat.
#16 Campfire Cones
When you take one look at the glorious campfire cone, you'll be hooked. These cones are an easy snack option, and they're filled with delicious goodies that all kids crave. Grab some packs of waffle ice cream cones, and stuff in the toppings. Of course, marshmallows and chocolate are always a hit, but you could also add Reese's cups, butterscotch cups, M&Ms. Or, you could add a hint of "healthy" by adding banana slices, raspberries, or strawberries. Once the cone is full of goodies, wrap it in foil and set it on a campfire grate. Be sure no flames lick the bottom of the cone wrapper. All it needs it the warmth of the fire to melt.

#17 Campfire Apple Crisp
If you've got a craving for some good ole apple pie, this campfire apple crisp recipe is the next best thing (or maybe even better!). It features lots more ingredients than our other recipe choices, but it's still easy to make, even with the kids. First, get your campfire going, grab some foil sheets, and combine apples, cinnamon, and sugar on each piece of foil. Next, mix the remaining ingredients (like butter, brown sugar, and oatmeal, to name a few) and sprinkle the mixture onto the apples. Seal up that foil packet, drop it into hot coals, and "bake" for 20 minutes.
Bonding Over the Campfire
Campfire recipes allow counselors and campers to spend irreplaceable quality time together. Plus, the campers gain confidence by cooking something they love, (almost) all by themselves. Give one or two of our favorites a try this summer, bring your group together around the campfire, and make some memories!