07-31-2023
Added
Paperless Attendance Search and Sort
Swiftly locate any camper by name for easy attendance management and quick access to vital information. Use flexible sorting to choose the view that suits your needs to make data management a breeze.
Gender Identity and Pronoun Merge Fields
Fields of dreams! You can now merge Pronoun and Gender Identity fields in emails, documents, and labels.
Preferred Name Setting - Paperless Attendance
Default the Paperless Attendance view to show camper preferred name to address campers by their preferred name from the moment they arrive at camp.
Updated
Google Analytics Update
We have upated Google Analytics to host the new Google Analytics 4 version on the Camper Application, Staff Application, Inquiry Form, Adult and Family Application.
Fixed
Staff Agency Edits

We resolved an issue where editing Staff Agency values inline in user reports was generating an error.


Undelivered Virtual Emails

We resolved an issue where virtual emails sent by parents were not being delivered to camp for printing.


Batch Printing eLetters

We resolved two issues when batch printing eLetters for campers. We updated eLetters to exclude any parents marked as deceased or parents who don't have an email address in the system and thus are not eligible to recieve hand written replies.


Paperless Attendance Timeout

We resolved an issue with Paperless Attendance where camps with large amounts of active bunks were timing out after 30s of loading. We increased the load speed and timeout window.
---
06-01-2023
Added
Echeck Voids
eCheck payments and refunds can now be voided through the financial ledger within Campminder. To void an eligible payment or refund, navigate to the financial ledger and click the "Void Now" button inline with the payment you want to void or refund.
Attach Photos to Letters in Campanion
Campanion users can now effortlessly add photos to letters in Campanion mobile, enhancing the communication experience with campers.
Camper Details in Paperless Attendance
Day Camps get ready to go fully paperless with the addition of our Camper Details view. Staff and Administrators alike can now select camper names to view important household details such as guardians, authorized grown ups and emergency contacts all with a handy click to dial view on a mobile device.
Dietary and Allergy Fields
The medical reporter can now include specific dietary and food allergy fields to help your medical and kitchen staff easily see the breakdown of food allergies when making diet specific meals.
Report on Locked Out Users
Ensure your users are never stuck waiting on you to unlock their account using the new locked out fields we've added to the Camper, Staff, Alumni and Person User Reports. Use additional filters to add the new "Locked Out" fields and get your users back into their CampInTouch account with the click of a few buttons.
Medical Notes on Logs
Medical staff rejoice! Users can now append notes to logs like they can for treatments. Easily add more info or record more follow up details about a daily log with ease in a camper record. Each appended note is also recorded with the user and time stamp for data integrity.
Fixed
Phone Reservation Options
We resolved an issue where some parents could not see the phone reservation dropdown options when attempting to make a phone reservation.


Pricing Information
We resolved an issue where the PDF of the Additional Options form was showing the previous season pricing information for Additional Options.


Bullet Formatting
We resolved an issue where bullet formatting was not displaying properly for published staff contracts in CampInTouch.


Payment Notifications
We resolved an issue where payment notifications were not displaying the name of the parent who made a payment in the tower notifications.


---
05-15-2023
Added
Staff and Alumni Filters in Communication Hub
Staff and alumni filters have been added to the Communication Hub, for enhanced organization and connectivity.
Credit Card Chargeback Notifications
We are excited to announce a new feature for merchants processing with Paysafe. You can now easily set up notifications in Campminder to receive alerts via tower notifications or email, ensuring that you stay informed about credit and/or debit card chargebacks and chargeback reversals. With this update, you'll have the ability to stay on top of your daily cash flow status more efficiently. By promptly receiving notifications, you can take proactive measures and submit a dispute package within the required five-day window for applicable chargebacks. This enhancement aims to provide you with better control over your payment processing operations, enabling smoother management of chargebacks and ultimately improving your overall business performance.
Attention Notes in the Health Center
We have added the ability to view camper attention notes in the health center so medical staff can view important notes about your campers and staff.

Retain filter settings in for eMAR and Pending Medications
Medical staff can now use the "Retain current filters" checkbox on the eMAR and Pending Medications views of the Medical Center to retain their selections. Do you have staff who disburse medications for younger campers? Retained filters will save your team extra clicks to get the right list of campers every day of camp.
Vertical Lines in User Reports
When generating Camper, Staff, Alumni and Person user reports, you now have the ability to include vertical lines on the Options/Finish report reports that are easier to read.
Updated
Health Center Search
We've improved the search function of the health center to mimic functionality of our general search bar so your medical staff can quickly locate campers with a few characters of the first or last name or a combination of both.
Fixed
Bank Account Activity Report Update: Gazebo ACH Returns Correction

We have resolved an issue in the Bank Account Activity report where Gazebo ACH Returns were mistakenly reported as ACH Refunds. This fix applies to both past and future Gazebo ACH transactions, ensuring accurate reporting. Enjoy an improved banking experience with reliable information. For any questions or assistance, please contact our support team.
---
05-01-2023
Updated
Social Media Integrations
The photo platform has three new integrations for 2023. Users can import from Google Photos, Facebook, and Instagram accounts with ease.
Campanion Help
CIT and Campanion now both have a mobile-optimized and improved help process, making it even easier to get questions answered and get support on the go.
Micropost Photos
Campanion users can now view Microposts in full-screen mode and conveniently download and share them directly from the app.
---
04-11-2023
Added
Paperless Attendance for Day Camps
For Standard and Professional Suite day camps, this new mobile attendance solution helps you run more efficient check-in and check-out processes. With the first phase of paperless attendance staff can easily access attendance via CampInTouch to track camper status in real-time. As an administrator, you can see statuses, report on information, control staff access, and control what statuses you need.
Data Refresh Frequency
The data refresh frequency has been increased across the Campanion application. This means that when users navigate between menu items, the content automatically updates for them.
Password View
Users can now see their passwords on the Campanion login screen. Prior to this, users could not see what password they had entered. Now you can see what you type, ensuring that your passwords are entered correctly.
Updated
Photo Resolution
Campanion's photo stream now shows photos in higher resolution.
Bank Account Activity Report
The Bank Account Activity Report has been updated to separate out reporting for ACH Return and Refunds, and to identify Overdraft Funding and related details to make these easier to match to bank account statements.
---
03-24-2023
Updated
Billing in Installments
We've changed the term "Auto-Bill" to "Installments" when defining Billing Preferences in Financial Admin to make the option to use installments with billing clearer.
Group and Bunk Gender Filter
We have updated the gender filter when configuring groups and bunks to show as "All" not "Both". This update was made to better indicate that groups and cabins would allow assignments for campers with male, female, or undefined gender assignments.

Load Times
We made some updates to the back end of our system to improve camper record loading times for camps that have a high volume of campers and sessions.
Fixed
Statuses in Reports
We resolved an issue where lead campers were not showing the correct form statuses when generating user reports.
Missing Camper Photo Report
We resolved an issue where the Missing Camper Photo report was not including campers enrolled in multiple sessions.
Wait List Numbering
We fixed the wait list numbering in camper records that was not always showing the correct wait list order dictated by the Wait List Management page.
Pulling Records in User Reports
We updated the "Is One Of" operator in user reports to correctly pull any record that matches at least one of the selected values rather than the exact value when working with custom fields.
Highlighted Search Results
We resolved an issue where the search results from a person record would not highlight when using arrow keys or when you hover over the search bar with your cursor.
---
02-15-2023
Added
Direct Link Merge Field for the Forms Dashboard
We've made it simpler for you to guide parents and staff toward completing any missing forms. You can now include a merge field called "Forms Dashboard Link" in your mass emails, which will allow users to click on the link and land directly on their Forms Dashboard page after logging in. This will make it easier for them to access and fill out any forms that they might have missed.
Batch Print eLetters
Have you ever wanted to print a blank eLetter for a homesick camper during the summer? What about a whole bunk? Well, now you can! We've created an eLetter option on the Batch Form Printing page to allow you to easily generate blank eLetters to print and disperse to your campers.
Minimum Session Requirement
We have added a new feature that lets you set a minimum number of sessions for your applicants. If you want to ensure that your applicants have attended a certain number of sessions before being considered for the summer, you can now enable this option in your Camper Application settings. This will help you to filter out any applicants who haven't met your session requirements.
Updated
Social Media Options
The option to enable and collect Instagram, Snapchat, TikTok and WhatsApp values has been added to the Camper App, Staff App, Adult & Family App as well as in-person records.
Fixed
Saving Notes with Ampersands
We resolved an issue where users could not save notes that included an ampersand in the text.
---
02-01-2023
Added
Filter Staff Forms by Position
Good news! Staff forms just got even better with the new filter-by-position feature. No more sifting through forms for everyone, now you can handpick who gets access to what forms! Hooray for efficiency!
Filter Camper and Staff Forms by Tag
Tag filtering is now available for camper and staff forms! Use unique values to grant form access with ease. Not familiar with tags? No problem! Head over to Admin > Unified Person Record > Person Tags to start using them now.
Updated
Health History Form
The Health History form just got a whole lot friendlier! We've updated the form to replace any instance of the term "your child"  with the camper's name. Using the camper's name instead of the generic term "your child" makes the form more inclusive because it acknowledges and respects the fact that the person filling out the form may not necessarily be the camper's parent or guardian.


Definitions Modal Load Times
The definitions modal will now load more efficiently when an account has a larger number of sessions. It's now even easier to make edits to sessions, programs, and session groups.
---
01-20-2023
Updated
Duplicate Leads
When adding leads as an administrator users can no longer select the "Add New Lead" button multiple times inadvertently creating duplicate records.
Payment Request Notifications
Notifications for payment request notifications will display the submitter's first and last name instead of the login email address that was previously shown.
Fundraising Report Values
The fundraising reports have been updated to look at the minimum amount as a greater than or equal to value rather than a greater than value.
Bank Account Activity Report Enhancements
The Bank Account Activity Report has been updated to make bank account reconciliation so much easier.


Both Summary and Detailed reports have been changed to remove distracting information.
For the CSV versions of the reports, you can keep all the columns if you like.
The Detailed report now has a PDF version as well as a CSV version!
In addition to dates and payment methods (Credit Card and/or ACH), you may now filter your results by deposit/withdrawal amount (the exact amount or a range of amounts) and/or by Cardholder Name or Principal 1 Name.
Finally, you can specify an email address, or a comma-separated list of email addresses to receive any of the reports when you run them.
Fixed
eCheck Tab Loading
Navigating from the eCheck tab to a parent record will now load successfully instead of being unable to generate results.


Blank Email Fields in Inquiry Form
The Inquiry Form has been updated to prevent incorrect error messaging if the email fields, when adding multiple campers, are left blank.


Camper and Staff Search
Camper and Staff Search functionality has been restored when attempting to search for a Camper or Staff record to move paper forms to another record in the system.


Stuck in Photo Upload
We have resolved the sporadic issue happening where users were unable to get past the photo upload part of their user account setup.


Transaction Report
We resolved an issue where the Transaction Report was not generating.


Who updated CampInTouch Forms?
We resolved an issue where forms updated in CampInTouch were no longer showing the name of the person who made the update, which made it difficult to track the history.


Background Check System Notifications
We resolved an issue where background check submissions were not generating an email or system notification for users set to receive notifications.


Advanced Search Errors
We resolved an issue where the initial attempt to use the Advanced Search feature would result in an error.
---
01-04-2023
Added
New Filter Added to Bunking: Gender Identity
If your camp collects information with the Gender Identity field, you can now filter by your campers' responses. You can filter by your defined values as well as write-in values.
This new filter option for gender identity and pronouns is also available on the enrollment report.
Updated
Write-In Filters
You can now filter by write-in values on the enrollment report, camper user report, and camper communications.
---
12-15-2022
Added
Communication Hub
For our
Professional Suite
users, we have released the first milestone of our new Communication Hub. With it, you can create beautiful, targeted emails and newsletters that look great on all devices. An upgraded user interface lets you pinpoint your audiences and create your messages with a drag-and-drop, intuitive text editor.
Fixed
Seasons in Communication Hub
Users accessing the Communication Hub can see all current and previous seasons when viewing the recipient season dropdown.
---
11-15-2022
Added
Prevent Duplicate Background Checks
If a background check has been processed within the last 60 days for a staff member, a confirmation message will now occur asking if the user would like to proceed with a second one in that time frame.
Updated
Special Characters in CSV Files
Campminder now supports special characters when exporting user reports and most system reports to a CSV.


Preferred Name Fields
Nickname fields have been changed to 'Preferred Name.' This primarily impacts updated reports, communication, scheduling, and CampInTouch pages.
---
10-31-2022
Updated
A New Look for CampInTouch with Mobile-Optimized Features
The My Account page within CampInTouch has a snazzy new design with updated icons and titles, and it is now mobile-optimized. We've also added a mobile purchase option for CampStamps, which makes the buying process easier than ever. Your camp families will see this update automatically in their accounts on all devices.
---
06-28-2022
Added
Names Added to Paper Forms
When batch printing paper forms, you can now choose to append the camper's first and last name to the form. Gone are the days of trying to match parent insurance cards to camper names. This has been added for both camper and staff batch form printing pages.
Password Reset on Mobile
We've added a "Forgot Password" button to the login page for your mobile users so users can easily reset their CampInTouch passwords on a mobile browser. Previously they would have to switch to the desktop version on a phone.
Updated
Form Instructions Update
We have updated the paper form instructions to remove the text indicating users should upload or send files as a PDF when submitting forms, as users can now upload any appropriate file type such as JPEG.
Fixed
CIT: Discretionary Accounts do not show memos tied
We have resolved an issue where parents could no longer see the memos added to camp store purchases when viewing transactions in CIT.


Parent/Child record cannot see CIT News
We have fixed the scenarios where certain guest account types could not see the News option in CampInTouch.


Person Records: Edit Child History
EnrolledYearExc setting was not being respected when adding enrollments. We have resolved an issue where users were unable to add and save child history information and add more years.
---
06-13-2022
Added
Customizable Gender Identity and Pronouns
We've added two new optional fields—Gender Identity and Pronouns— to a number of modules within the Campminder system. If you enable one or both of these fields, you can:
Set a list of custom values for each

Choose if the fields are required

Decide whether or not to allow write-ins
These new optional fields, if used, will be shown on the first page of Camper and Staff applications, Unified Person Record, Health Center, Reports, and Bunk or Group Cards. Pronouns will be visible in the Bunk Photo Report. 
Gender Settings Page
We've added a central location to manage these fields, the Gender Settings Page.  You can manage the settings for the staff and camper applications and the CampInTouch camper information card.
You can also customize how you want the existing binary gender field to be phrased. One example: instead of asking for a camper's gender, you can ask, "who do you want your camper to be bunked with?"
For more information you can access the article (titled: Customizable Gender Identity and Pronouns) in CampMinder Community when you're logged in to your account.
---
05-20-2022
Added
Unique, Direct, and Sharable Link to Camper Application
Registration is now built seamlessly into your parents' Campanion experience. You can send a direct link to the Camper application via email, text, and Micropost.
When clicked, the link will direct parents to your application via Campanion (when they have the app installed), or their mobile browser.
Registration Menu
We've added the 'Registration' option within the menu tab of Campanion, which means it is now possible to register kids for camp through the mobile application.
Updated
Documents
We have updated the title page so that when users are generating documents—be it for campers, staff, or alumni—the title will show as 'Camper Documents' or 'Staff Documents' instead of 'Mass Emailer.'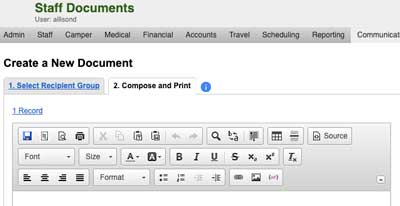 T-Shirt Field on the Camper Application
The T-shirt field on the Camper Application has been updated to clear out the previous year's T-shirt size for the new application season. This will help applicants fill in the appropriate shirt size for the new application season, and make sure the correct shirts are getting to all your campers for the year. Lookin' sharp!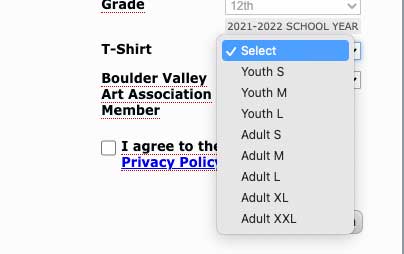 Updated E-Mail Settings
We have updated the mass communication settings labels for households from 'Home gets general mailings' to 'Gets mass emails.' This setting is used to restrict an entire household from being included in mass email communication.
Fixed
Scheduling
We fixed an issue related to the order of activity preferences selected on the Activity Preference form. It was ordered alphabetically instead of in order of preference, and this issue is now resolved.


eMAR
The eMAR in the Health Center has been fixed to show medical disbursement history across all seasons instead of only showing the medications disbursed in the current camp season. Happy reporting!


Transaction Report
The new transaction report has been fixed to maintain the 'Separate payments and standard credits by apportionment' setting when generating a saved report that previously had that selection saved.


Camper Application Due Now Calculations
We have resolved an issue where the Camper App 'Due Now' amount was calculated incorrectly if discount changes occurred based on updated session enrollment. Those amounts will now calculate appropriately.
---
04-07-2022
Added
Impersonate CIT Users
A new permission called "Impersonate CIT User" has been added to all user group types. This allows users to be password administrators for campers, staff, parents, and alumni. Users will also be able to reset passwords and set which users can use this impersonation function. This last feature ensures you can maintain appropriate levels of security within your account.
Letters from Camp Push Notifications
Parents who have opted to receive push notifications will get a notification when they have a letter reply from their camper in Campanion mobile. When a parent clicks the notification they will be taken to view the letter reply.
---
03-08-2022
Added
Custom Forms
Sooner or later, you knew this was coming! A new setting has been created to allow you to disable the "Save for Later" option on any Camper, Staff, or Alumni custom web form. To disable this option for a form, select Actions and Edit Parameters for any custom web form.
Updated
Custom Forms
No time to finish a form? No problem! Parents, staff, and alumni filling out a custom web form can now choose the "Save for Later" option to save their work before submitting their form.
Microposts targeted by bunks and bunk plans in Campanion Mobile
Microposts can now be targeted based on bunk and bunk plan. This allows camps to curate content for families based on specific bunk experiences. Connect before summer and allow parents to get to know their kids' counselors ahead of the camp season, and continue with these targeted updates throughout the summer. Whatever naming convention your camp uses in the bunk field and the user interface, will be used with this feature.
---
02-28-2022
Added
COVID-19 Vaccines
CampMinder's Health History and Pre-Arrival forms have been updated to allow for up to five vaccination dates and options so your staff and campers can input additional booster information as needed.
Refunds
The batch refunds page and the refunds window in a family ledger now show an indicator if a payment previously processed is tied to a card that has been deleted from the CampMinder system. This can be used to help track which payments are no longer eligible for electronic refunds.

 Manual Tagging in Campanion Mobile
A new icon is added when a parent views a photo in Campanion mobile. When the parents click the manual tag icon they will be able to select their enrolled camper(s) in the photo. The tagged photo is added to the tagged photo collection allowing parents to curate an album of their camper(s).
Tagged Photo Report in Campanion Admin
Photos tagged by parents in Campanion mobile are now included in the tagged photo report.
Letters from Camp in Campanion Mobile
We added the ability for families to see letter replies from their campers in Campanion Mobile. This provides a two-way solution for parent-to-camper communication. Letter responses will be viewable under the 'reply' tab, and an orange indicator lets them know when they have a new message from their camper.
Updated
Program Protector
Trip Mate payment processing has been updated so when a payment fails due to the credit card on file being expired an email will automatically notify the family of the issue as well as notify Tripmate.
Reporting & Communication
The Additional Filter Criteria section has been updated to expand the "Field" and "Value" columns to make it easier to see longer text fields in each of those boxes.
Guest Accounts
Users can now edit Guest Accounts. Where previously guest account emails could only be edited by the administrator, parents can now update their own guest account emails.
Staff Application
The Staff Application settings have been updated so that years from closed seasons will no longer show on the Staff Application. This will help prevent staff from potentially selecting the wrong application season.
---
01-28-2022
Added
Album constraints by session and program
Photographers can now constrain photo views by session or program. This means that you can customize your parent and family viewing experience based on these two segments.

Publish albums in real-time, at a scheduled time, or save them as drafts to publish later
When a CampMinder user on your team creates an album, they will be given three publication choices:
Publish Now: The photos will begin processing immediately after they upload photos. This is the current default setting
Save as Draft: This will require the camp administrator to go back into the album details modal to publish. Administrators can edit the sort or rotations on photos prior to publishing
Schedule for Later: Pick a future time (in 15-minute increments) to publish photos. The time the photos publish is based on the user's local time zone.

Robust sorting options based on the file name or time and date
When a user creates a new album they will select one of the following sorting options:
Chronological- Newest First, Oldest First
Name - Ascending
Name - Descending
Notes:
Chronological sorting will be based on the EXIF Date Time Original field
A user must ensure that their files have the time and filename information stored in the photo file to sort appropriately
Filenames can be up to 250 characters long
---
12-03-2021
Added
Application Instructions
A new setting has been added to the instructions settings of the Camper Application. You can now enable (or disable) application instructions to automatically populate at the beginning of the staff, camper, and adult & family applications.
Date of Birth Field Format
All date of birth fields have been updated to auto-populate forward slashes and leading zeros according to the MM/DD/YYYY field requirements.
Updated
Linked Phone Numbers
Phone numbers in any UPR record are now linked so any admin user can select the number on a mobile or desktop browser and quickly make a phone call.
Add Camper and Staff as Alumni
Admin users can now make any applicable camper or staff record an alumni person mid-season through the person info card.
---
11-05-2021
Added
New Health History Fields
We made it easier to track information that parents and staff have provided on the Health History Form, in response to these questions:
"I attest that all my child's immunizations required for school are up to date"
"I will send my child's immunization information to [domain name]"
Users can now add the fields, "Attests Immunizations Up to Date," and "Will Send Immunization Information."
Updated
Season Rollup
Closing a camp season has been updated to allow for up to 50,000 camper records when performing a season rollup. Note: This process will still take several hours to be completed when processing high volumes of campers, but will not result in a timeout error.
Age Constraints
Age Constraints defined in Season Settings will copy forward from one season to the next, going forward. Age-based camps will not need to re-input ages per session or program from season to season.
Fixed
Archived Campers
Archived campers will no longer be eligible to be enrolled. This will prevent archived campers from being enrolled, but simultaneously not appearing on reports and in mass communication tools.
Travel Coordination
Travel coordination page will now load the applicable travel dates in the date dropdown.
Batch Camper Transactions
When adding batch camper transactions for multiple seasons the correct season will be displayed.
---
09-22-2021
Updated
Batch Refunds
The Batch Electronic Refunds page has been updated to enhance the loading times and experience when loading a high volume of refunds.
T-Shirt Size Field
The T-shirt size field has been updated so the T-shirt sizes collected will not be removed from the system if the T-shirt size field is disabled from the Camper Application.
Transaction Report
The Summary version of the Transaction Report has been updated to break down payments and refunds by payment method in addition to summing the total payments and refunds for the defined report date.
Fixed
Discretionary Accounts
The accounts justification tool has been updated so going forward a person who is both a canceled camper and hired staff person in the same season will not be double credited or charged.
User Reporting
The user reports tool has been fixed so administrative users that are archived, but may be active parents, staff, or alumni, will still populate on the appropriate user reports.
Bank Account Activity Report
The Bank Account Activity Reporting filters have been resolved so the complete list of transactions will populate rather than limiting results that didn't occur after midnight on the set end date.
---
08-19-2021
Added
Merge Field Categories
Similar to User Reports, your merge fields will now be organized by category. You simply select the desired field category to see the related merge fields that can be added to emails, labels, or documents.
Merge Field Search Tool
In mass communication and individual communication, users can now use a search function to locate a particular merge field needed for emails, labels, and documents. All you need to do is type in the first letters of the name of the field you need and any field containing the typed values will appear in a list of suggestions.
---
08-06-2021
Added
Number Values on Custom Web Forms
We've added improved validation of integer and decimal custom fields for parents submitting number values on custom web forms.
Fixed
Merge Field Error Message
We fixed the error message that was occurring when attempting to add a family merge field to medical documents.
Due Now Calculation
We fixed the due now calculation error where the 'due now' amount was showing as $0 when new sessions were added to a camper's record when already enrolled.
Health History Formatting
The Health History form now flags immunization dates that are formatted incorrectly.
Residential Line Items
Residential travel line items were sporadically duplicating themselves due to duplicate travel line items being allowed. This issue has been resolved.
Discretionary Accounts
We fixed the issue where funding the Discretionary Accounts was triggering line item duplication and failed payments.
Attendance Module
Previously, when searching for campers in the Attendance module, it did not populate campers after typing the first three letters of a campers first or last name. This has been resolved.
---
07-02-2021
Added
COVID-19 Vaccine Type
The list of potential COVID-19 vaccines that parents and staff can choose from has been updated to include Sinopharm/BIBP, a vaccine approved by the WHO.
Updated
COVID-19 Reporting
The Daily Health Check reporting and communication fields have been updated to include the time zone shown (Greenwich Mean Time), to help provide clarity on times that are shown.
Fixed
Mass Communication
Email read counts have been updated to show the accurate number of emails that have been opened.
Campanion Admin
The Campanion Subscription Admin page has been improved to load a high volumes of camper families.
Person Records
Person records have been updated to load consistently regardless of person type.
Financial Reporting
The Transaction Report has been updated so the Balance/Credit and Forward/From line items won't duplicate erroneously.
---
06-10-2021
Added
COVID-19 Subtab added to the Medical Tab
With the new COVID-19 Subtab added to the Medical Tab of both camper and staff records, you can now view all the COVID-19 information you've been collecting through the Health History Form, Pre-Arrival Screening Form, and Daily Health check in one place.
COVID-19 Tab Added to the Health Center
With the new COVID-19 tab added to the Health Center of camper and staff records, you can now view all the COVID information you've been collecting through the Health History Form, Pre-Arrival Form and Daily Health check in one place.
Fixed
Bunking Reports
The Staff Housing List and V1 Bunk List Report, which were previously timing out when pulling reports, have now been resolved to generate reports appropriately.
Payment Apportionment
Auto-apportionment has been updated to apportion to the correct session according to the defined session start dates.
HEIC Files
Forms have been updated so uploaded HEIC files will be consistently downloadable.
Medical Reporter
Staff address fields in the Medical Reporter have been changed from "Address 1" and "Address 2" to "Staff Address 1" and "Staff Address 2".
Mass Communication
High volumes of Emails or Documents will now generate appropriately instead of timing out in the system.
---
05-10-2021
Added
COVID-19 Pre-Arrival Screening Form
You can now Enable and collect COVID-19 details such as vaccine, medical history, and travel information using CampMinder's latest system web form, the
COVID-19 Pre-Arrival Screening Form
. To enable this form, follow this path:
Camper forms: Admin > Camper Setup 2
Staff forms: Staff > Forms Admin
Pre-Arrival Screening Form Settings
You can now edit the content of the Pre-Arrival Screening Form by navigating to:
Admin > CampInTouch > Settings
Pre-Arrival Form Reporting Fields
You can now report on Pre-Arrival Form newly added fields using the Medical Reporter (Navigate to: Medical > Reporting > Medical Reporter). These fields are as follows:
Field Category: COVID-19 (this is an existing category)

COVID-19 Consulted Cardiologist
COVID-19 Diagnosed with MIS-C COVID-19
Latest Test Date COVID-19
Latest Test Result COVID-19
Latest Test Type COVID-19
Medical Instructions COVID-19
Severity of Symptoms

Field Category: Pre-Arrival Screening (this is a new category)

Pre-Arrival COVID-19 Exposure
Pre-Arrival Group Event Info
Pre-Arrival Group Event Info Exists
Pre-Arrival Group Event Info Earliest Activity Date
Pre-Arrival Group Event Info Latest Activity Date
Pre-Arrival Travel Information
Pre-Arrival Travel Information Exists
Pre-Arrival Travel Information Earliest Return Date
Pre-Arrival Travel Information Latest Return Date
Health History COVID-19 Data
You can now allow any COVID-19 vaccine and COVID-19 disease data shared on the Health History form to populate in the appropriate fields on the Pre-Arrival Form.
---
04-30-2021
Fixed
Registration Fee
A family-based Registration Fee line item is now automatically added to a family ledger when a child in the family is enrolled, regardless of whether a sibling in that family was added to the wait list first.
---
04-16-2021
Updated
W4 Form
You'll now see an updated W4 form field featuring three options for Marital Status:
Married
Single
Head of Household
Federal Withholding
This field has been updated, replacing a number with a dollar amount for:
#3 Claim Dependents
#4a Other Income
#4b Deductions
#4c Extra Withholding
Transaction Report
Report performance has been improved.
Fixed
Registration Fee
In situations where the first applicant in the family was wait-listed and the second applicant in the family was enrolled, the registration fee was not being charged. Now, the registration fee will be added to the family ledger any time at least one family member on the application is enrolled.
The Transaction Report
This report no longer shows seasonal fields as options in 'Data to Show' unless a season is selected.
---
03-30-2021
Added
Daily Health Check
It's now possible to enable the Daily Health Check tool in CIT Settings. Just head to Admin > CIT settings > COVID-19 Heath Check and select 'Enable.'
From there, if you impersonate a parent, you'll be able to see the form in CIT. Once this is enabled, the form will show up in a parents CIT account. To test, you'll need to briefly enable the tool and then disable upon completion of your testing.
New Daily Health Check Fields in Medical Reporter
It's now possible to create a range of custom medical reports using the new fields captured in the Daily Health Check.
Updated Health History with COVID-19 Fields
You're now able to capture additional information on COVID-19 testing and immunization records in the Health History form. These fields are reportable in the Medical Reporter and display on the Immunization report and in the lower Medical Tab on the Camper Record.
Upload Images as Forms
Parents and staff members can now upload images as forms in CIT and with Campanion.
New Immunization Template
Our design team has updated our Immunization template to include COVID-19 vaccination questions. You can download it
here
.
---
02-22-2021
Updated
Photos
As an additional camper privacy measure, the ability for leads and staff applicants to view photos has been removed.
---
01-29-2021
Added
Enrollment Payments
Enrollment payments for multiple sessions are now automatically associated with the deposits and registration fees for those sessions.
Household Members
Deceased household members are now excluded from reports and from the lower communications tab.
Fixed
Credit Balance Reductions
"Reduce Deposit Amount by Household Credit Balance" and "Reduce Registration Fee by Household Credit Balance" now respond appropriately to seasonal settings.
Transaction Report Filters
Saved Presets in the Transaction Report now populate filters correctly.
Session Enrollment Filters
When person session enrollment filters are engaged, family transactions for the matching children are now returned, even when there are no children transactions.
---
12-31-2020
Updated
Transaction Reports
Session information is now included on the Transaction Report for the following reports:
Detailed
Summary
Payments by Charge
Payments by Credit
---
11-30-2020
Added
Reporting on Cancelled Sessions
It's now possible to report and filter by "
Prior Season Cancelled Sessions
." This makes it easier to report on cancelled sessions across different camp seasons for a better understanding of your enrollment details. Just type 'prior' into the fields filter and you'll see every cancelled session in one list.
Household Credits
CampInTouch settings for the Camper App now includes options in the Billing section that allow you to apply household credit balances to deposits and/or registration fees.
Updated
Donations
It's now possible to update a donation campaign or a donation fund. You can now also delete a donation.
Enrollment Comparison
The Enrollment Comparison Report now allows you to specify the years you want to compare.
Time Zones (Why are they so confusing?)
When setting an application to go live, the Camper Application Settings now specify Greenwich Mean Time (GMT). This will help avoid confusion about exactly when the application will appear to parents across various time zones.
---
06-30-2020
Added
Household Options
We've added new functionality to the household option, including:
Merge households
Add people
Move people
Change people from one household to another (along with their financial information when applicable)
Payments
It is now possible to refund a payment from the previous camp season.
---
05-31-2020
Added
Staffing
It is now possible to "un-hire" staff. This option appears as a new red button on the 'Staff Info' screen. Check it out:
Batch Session Edit
Users can now move sessions and change session enrollments for many campers at once using the Batch Session Edit tool. Check out the various actions that are part of this new feature:
Updated
Fundraising
It's now possible to adjust the appeal value and append notes to an existing donation.
Ledger Items
You are now able to change a ledger item from 'family-based' to 'camper-based' and vice-versa.
Line Items and Pricing Rules
Admins can now edit the amount of a line item, even if it is tied to a pricing rule.
---